Ford plant redevelopment may get even bigger
A local developer that prides itself on saving historic buildings is planning to make a big splash on the city's near-east side that would include spending tens of millions of dollars and moving its headquarters there.
TWG Development is set to become the new owner of Ford Motor Co.'s vacated East Washington Street assembly plant that once was part of Angie's List Inc.'s grand expansion plans.
The city's Metropolitan Development Commission on Aug. 16 approved granting TWG a $4.6 million federal loan administered through the city to assist with the $36.8 million redevelopment.
But TWG's plans for the near-east side could extend beyond the century-old Ford plant to include the adjacent building to the east that houses Ivy Tech Community College's automotive program. It's in discussions to sell the building to TWG, said Kathleen Lee, chancellor of Ivy Tech's Indianapolis campus.
Ivy Tech hopes to construct a larger building at a location yet to be revealed to expand its automotive program.
"We need a partner that would let us stay in the building for a while," Lee said. "Since the [two] buildings almost lean on each other, it makes sense to talk to the people doing the development next door."
The Ivy Tech building and the old Ford plant sit within blocks of Interstate 65, which for decades has acted as a buffer between downtown and the east side. But with downtown development moving east—as evidenced by the construction of the Cummins Inc. divisional headquarters, the IndyGo transit center and the 360 Market apartment project—the near-east side is becoming more attractive to developers.
The city is helping to stoke developer interest even more by expanding the downtown tax-increment-financing district to encompass the Market East district, which extends to the interstate.
TWG is buying the old Ford plant from Indianapolis Public Schools and hopes to close on the $1.65 million purchase in October, TWG President Tony Knoble said.
IPS uses the 102-year-old plant for storage and has owned it since 1979, acquiring the building from battery maker P.R. Mallory Co., which bought it from Ford Motor Co. in 1942.
TWG's plans to redevelop the four-story, 200,000-square-foot structure call for 132 apartment units, with 12 on the first floor and the rest above. More than half, or 51 percent of the units, will be priced at affordable rates—a piece of the project the city deems critical for the area.
"We're going to have an investment in a property that has sat vacant and underutilized for many, many years, and it also will bring affordable rental housing near downtown," said Jennie Fults, the Department of Metropolitan Development's administrator of community investments.
Several of TWG's other apartment projects have an affordable-housing component—including 800 Capitol and Penn Street Tower downtown, both redevelopments of century-old buildings.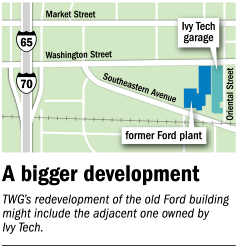 TWG will occupy about 30,000 square feet of office space on the first floor of the Ford factory, leaving room for 6,000 square feet of retail. The company hopes to start construction in January and consolidate its offices there in early 2019. It currently is in the American Building at 333 N. Pennsylvania St., a TWG redevelopment that includes 79 apartments, and in space at 429 N. Pennsylvania St.
"We think there's a lot of great stuff happening on the east side," Knoble said. "We're thinking long term, and we want to be a part of the redevelopment of that corridor."
That's comforting to City-County Councilor Zach Adamson, after Angie's List dashed his district's hopes for a major company expansion.
In 2014, the Indianapolis-based firm announced plans to renovate the Ford building for the company's new headquarters. The conversion was to be part of a $40 million expansion, half of which would have been spent on the Ford building. But Angie's List called off the plans and later agreed to be acquired by New York-based IAC, the parent of Home Advisor, for $505 million. The deal is expected to close by year-end.
"The neighborhood supported Angie's List, because of how important it is to bridge that gap between downtown and Irvington," Adamson said. "It's one of the most primed areas of real estate for commercial development in the city."
TWG's investment in the near-east side would surpass plans from Angie's List, if it buys the Ivy Tech building. The company hopes to close on a deal by November and is not yet sharing any plans it has for the building, Knoble said.
Ivy Tech has occupied the building for decades. The college wants to construct a larger building to expand its automotive program and to partner with other auto companies besides General Motors and Toyota. Their mechanics use the Ivy Tech space to train on new vehicle models, Lee said.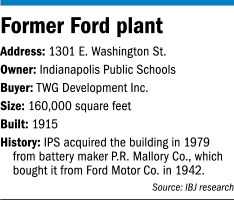 The community college expects to announce in a few weeks where it plans to build, she said. Ivy Tech will stay in the building on East Washington Street until a new facility is completed, which would give it time to see TWG's work start on the old Ford plant.
"We were really happy to see that the building wouldn't be sitting empty anymore," Lee said, "because it's a real blight on the neighborhood."
TWG will use the $4.65 million loan, backed by the Community Development Block Grant program, to acquire both buildings, in addition to other smaller properties in the area, Knoble said.
The developer also is set to receive $3.8 million in developer-backed bonds from the city. As opposed to typical tax-increment financing, the developer is on the hook for any shortfalls, rather than the city, if additional property tax revenue generated from the project falls short of debt payments.
To help defray the cost of the development, TWG is seeking federal historic tax credits and state industrial revitalization tax credits.
Offering affordable housing is one of the conditions of the $4.65 million loan.
Occupants of the affordable units will pay rent on a sliding scale based on their incomes. A family of four would need to earn less than 80 percent of the median income for Marion County to be eligible to rent an affordable unit.
Because both buildings are owned by public entities, they don't generate property tax revenue.
Original article here.